Born in Northern California, Robin van Löben Sels lived in Southern California and the Bay Area for much of her early life. She attended Pomona College where she earned her B.A. in English and Creative Writing in 1958, and San Francisco State College, where she earned an M.A. in Counseling Psychology (thesis: "The Concept of Paradox,") and a Standard Junior College Teaching Credential in Psychology, English, and Creative Writing in 1965. Later Robin moved east for psychoanalytic training at the C.G. Jung Institute of New York (Certificate in Psychoanalysis 1980, thesis: "Shaman: A Differentiation of Image from Instinct"), with interim (1972-73) training at the C. G. Jung Institute in Zürich, Switzerland. She completed her doctoral work at Union Theological Seminary (M.Div. equivalency 1985, M. Phil. 1992, Ph.D. in Psychiatry and Religion 1999, thesis: "A Dream in the World.)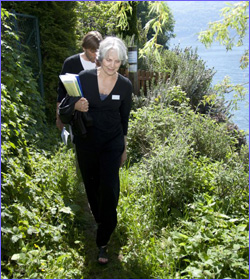 Alongside an ongoing (since 1973) analytic and psychotherapeutic private practice in New York and the Albuquerque-Santa Fe area of New Mexico, Robin's professional experience includes several phases: in 1973 she became the first
Lindisfarne Fellow
in Jungian Psychology and conducted dream seminars and workshops with the Lindisfarne Association in Southampton and Manhattan, New York, until she resigned her Fellowship in 1980.
From 1985 until 1991, Robin conducted Dream Seminars for the general public as part of the Public Education Program of
Wainwright House
in Rye, New York. From 1987 until 1995, Robin was a core faculty member of the
Professional Enrichment Program in Jungian Theory and Practice
while it was held at Wainwright House (1987-92), and she continued with the
Professional Enrichment Program
when it moved (1993) to Katonah, New York, under the auspices of
The Center for Advanced Studies in Depth Psychology.
"PEP was an intensive, residential, continuing educational program for twenty-five to thirty psychotherapists. As a faculty member, I held seminars in
Fairytales
and
Dreams and Counter-transference
, as well as leading Dream Workshops and Process Groups, including several two-week Seminars held in Zürich, Switzerland (1990, 1992) and two Shelter Island Summer Conferences (July 1992, 1993)."
During this time Robin also held Faculty positions at the
C.G. Jung Institute of New York
as a Clinical Case Supervisor and she ran Dream
Practicums
. Last but not least, from 1996 until 2003, Robin co-edited
Quadrant: the Journal of the C.G. Jung Foundation for Analytical Psychology,
in New York. She also served on the Board of Trustees for
ARAS
, the
National Archive for Research in Archetypal Symbolism
in New York (1983-91).
Occasionally Robin lectures: ("
Poetry and the Work of Understanding: Listening for the Soul's Return
,"
Journey Into Wholeness
,
Kanuga, North Carolina, 2004;
"Dreams as Daily Bread,"
Temenos Institute
, Connecticut, 1993;
"The Dreaming Soul: Glimpses of Oneness,"
Discovering the Oneness: Mind, Body, Spirit: An Exploration of Human Consciousness, Deepening the Interdisciplinary Dialogue
: Riverside Church, New York, 1993;
"The Dream in the World,"
De Kosmos Foundation
, Amsterdam, Netherlands, 1991;
"Dreams & Everyday Life,"
Hampshire College
, Amherst, MA, 1974).
But Robin prefers to work in small groups, whether for dream seminars, as in
"Psyche and Wilderness:" A Series of Seminars
for Wainwright House's
"Spirit of the Earth" Conference
, March 1991, in Rye, New York, or for trainees at the C.G. Jung Institute in Cape Town, South Africa (1999), or with Russian and American participants on the
Volga River Peace Cruise
, sponsored by the
Center for Soviet-American Dialogue
in Russia, 1988. She prefers small groups for teaching and educational purposes (she participated in a small ship-board seminar while exploring Patagonia and the Chilean Fjords, 2005, for example), for all kinds of clinical and supervisory work, and for study and reading groups or experiential-study seminars as were held in Co Kerry (2006), Belfast and Donegal (2008), Dublin & Co. Galway (2009), and Dingle Bay (2010.) The next
Irish Study Seminar
will be in Dingle Bay, 2010.
See Upcoming Events
.
Robin's present affiliations include
The Inter-Regional Society of Jungian Analysts (IRSJA),
The National Association for the Advancement of Psychoanalysis (NAAP), (Certified Psychoanalyst #P81559), The International Association for Analytical Psychology (IAAP),
and
The New Mexico Psychoanalytic Society.
She is on the Editorial Advisory Board of
Quadrant; Journal of the C.G. Jung Foundation for Analytical Psychology
and she remains an honorary member of the
New York Association for Analytical Psychology (NYAAP).
She is a licensed psychoanalyst in
New York State (#000733-1)
and has trained in
EMDR.


Robin is also a fully qualified member of the Canadian Association for Psychodynamic Therapy (CAPT), in British Columbia.
She and her husband, Donald Kalsched, are also founding members of the board of the Community for Creative Work (CCW), a non-profit organization that holds the Kalsched-van Loben Sels Library. This library is housed in the great room of Truchas Peaks Place, a retreat center in Northern New Mexico located in the old Spanish village of Truchas, halfway between Santa Fe and Taos (www.truchaspeaksplace.com). Additionally, CCW is affiliated with Opus House, a place for creative solitude situated on the same property, which makes space available for selected individuals for creative work and solitude (www.opushouse.org).